A Scan to BIM workflow involves using a laser scanner to capture a highly detailed and accurate 3D scan of a building, space, or site. From there, it is possible to create a digital twin using BIM (Building Information Modelling).
What is the Scan to BIM process?
Before any process starts, you must decide what output is required. The desired outcome will determine the level of detail needed for the scan and the 3D model. Here are just some examples of what you may need to consider:
Shell – walls, floors, roofs, ceilings, doors, windows, internal glazing

Finishes – floor finishes, wall finishes, ceiling finishes, skirting boards, architraves

Sanitary ware – toilets, sinks, showers

Kitchens – casework, appliances, worktops

M&E – lighting, electrical sockets, fire systems, ductwork, pipework,

Fixtures and Fittings – furniture, signage, decorative fixtures

External – landscaping, parking, lighting, drainage, signage
Once the level of detail (LOD) has been confirmed, the point cloud scan can begin on-site. To learn more about point cloud scanning, please refer to our previous blog; What is a Point Cloud scan, and how is it useful?
Once data from the scan has been captured and processed, work can begin on creating the 3D model using BIM-enabled software such as Revit or ArchiCAD. Again, the LOD for the construction of the model must be agreed upon at the outset.
The complete 3D model can be delivered to the client or hosted online for easy access.
Why is Scan to BIM used?
Using a point cloud scan means that only one survey is required to capture the necessary data. This reduces the number of trips to the site saving time, money and carbon emissions.
The resulting 3D model, drawings, schedules, and associated documents are as accurate as possible by undertaking an as-built scan.
The amount of data within the BIM model can be extensive. All FF&E (furniture, fixings and equipment) and MEP (mechanical, electrical and plumbing) can include the relevant BIM data. Creating detailed and accurate asset registers that can be maintained and updated where necessary is easy using the scan to BIM method.
If required, the BIM model could be linked to a CAFM System (Computer Aided Facility Management), allowing facility managers to control and maintain the building using the model. Sensors can be placed on Mechanical and Electrical equipment linked to the CAFM system and alert facility managers if something needs repairing or is due for routine maintenance.
Anyone undertaking future works within the building can use the model to locate and interrogate fixtures, furniture items, finishes, systems or components that may need fixing or replacing. One click within the model will tell them what it is.
Who could benefit from Scan to BIM?
In short, anyone.
An accurate 3D representation of a building means that any future work that needs to be carried out can easily be added to the model. This allows for precise scheduling and costing and makes the production of construction drawings much quicker and easier.
Even if future works aren't anticipated, having a digital twin means that if the building were to be damaged in any way, you have an accurate record of the building and, potentially, everything inside it. This would be particularly useful for historic or listed buildings, where repairs are crucial to match the original design precisely.
For large portfolios of properties, as many local authorities have, it is an excellent way of quickly keeping track of properties and the assets inside them. Linking them to CAFM systems allows you to see how buildings are being used, how energy-efficient different properties are and when they need to be maintained.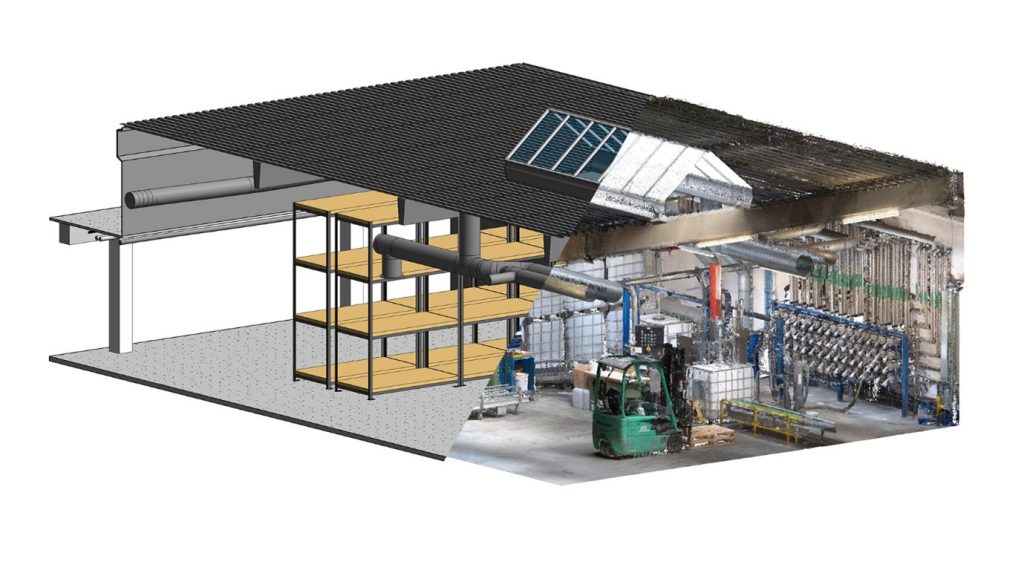 Are there any disadvantages?
The initial cost of a Scan to BIM process can deter people from making that investment. We must change our mindset and start thinking about cost over time within the construction industry. The initial outlay will save time and money throughout any project.
Having digital twins of buildings can pose a security risk if they get into the wrong hands. Any scans and models must be kept safe, secure, and in line with ISO 27001 standards.
If you would like to learn more about the Scan to BIM process, don't hesitate to contact our team.