OUR 8-STEP GUIDE ON HOW TO PROJECT MANAGE A OFFICE FIT OUT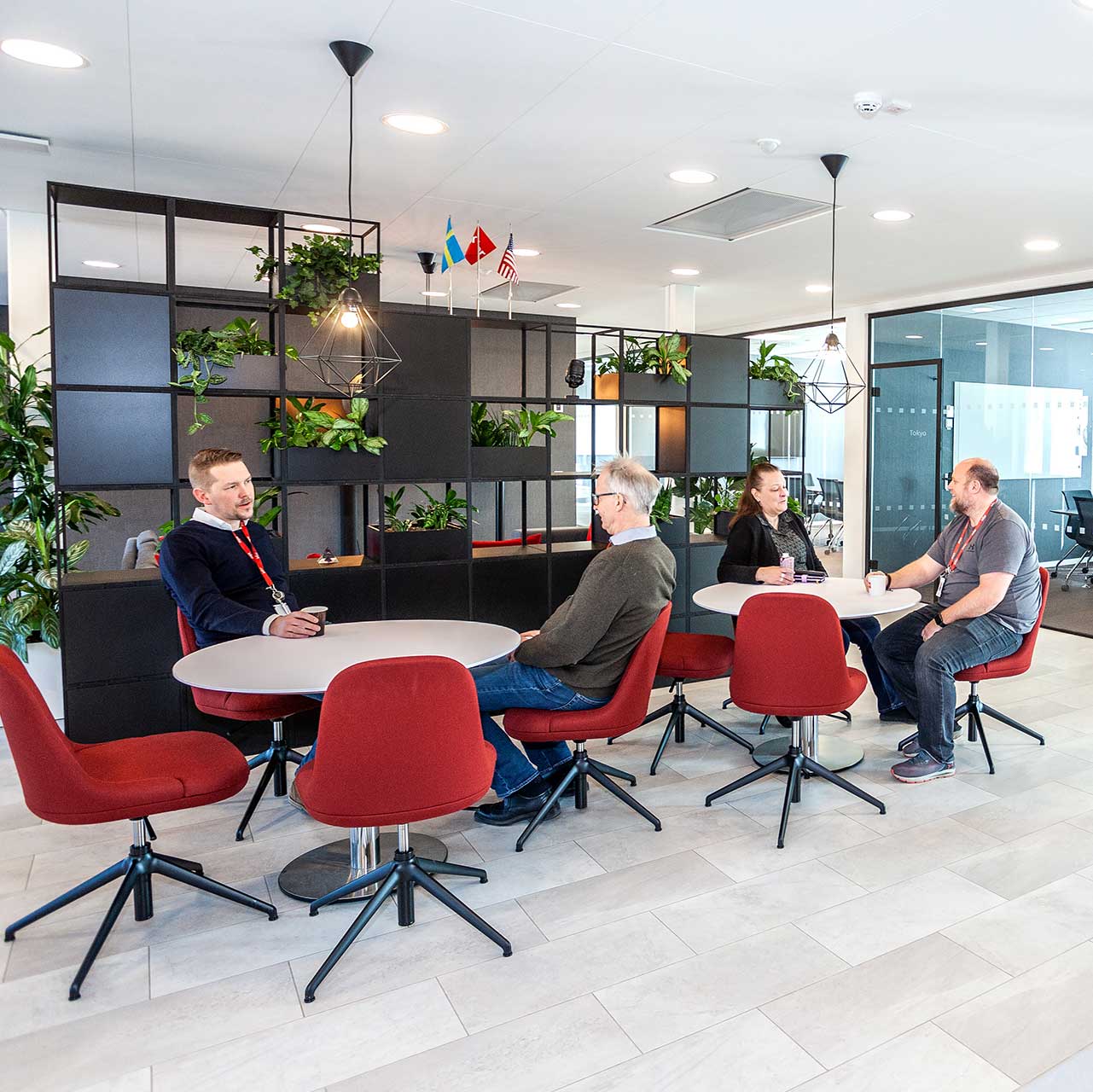 Every office refurbishment project is unique and can range from simply refreshing your current office to refurbishing a newly acquired space. It could even be a complete fit-out of a brand-new building. All can vary in scope and cost, but no matter what kind of project you are undertaking, it is essential to get it right, and we know that this can seem daunting.
Fear not; our step-by-step guide will give you all the tools you need to deliver a successful office fit-out. We've even provided a glossary to help you understand all those acronyms and jargon!
Blank – Do not delete
YOUR 'WHY'
So first off, why? You need to understand why you need to undertake this refurbishment. If you can't answer this, then you might need to go back to the business for some clarity, but it could be:
a. Expansion
You now need to fit more people into the space. You might have acquired another business or simply expanding quickly, and you need to find a way to accommodate these new team members!
b. Reduction
Equally, your space is underused now that colleagues are working from home more. It would help if you found a way to give some of the areas back to the landlord and reduce overheads.
c. End of tenancy
You may be at the end of your lease and need to return the building to its original state (you might hear the words' dilapidations' or 'de-laps').
d. Re-purpose
With more people working from home regularly, you might need to change your traditional office space to make it more of a destination. Flexible working solutions, known as hybrid working, could be the solution to encouraging your colleagues into the office.
e. Tiredness
We all feel this way at times! The breakout area has seen better days and requires attention. We love nothing more than taking a break, so giving your team somewhere more in keeping with your culture could be just the boost you and your office need.
f. Health and Safety and Compliance
Tired offices can sometimes be full of risk. Consider upgrading your office to ensure it meets all current legislation.
g. Energy Efficiency and Sustainability
Does your office cost more money than it should, or do you have ambitions to become more sustainable? Have you considered re-using parts of the existing space and recycling anything you no longer need? It is also essential to work with contractors and suppliers who are working to sustainable standards.
h. Inclusivity and well-being
Your office space can better reflect your company's potential employees and clients. This could be the perfect time to think about what you can do to promote better well-being and changes you can make to the space to ensure it will work for all.
These are just some of the reasons you may need to refurbish, and hey, it could be most of them! Whichever fit-out partner you choose, ensure they ask the right questions and get to the bottom of your needs.
WHOM TO INVOLVE
Who will be affected, and who needs to be involved? You are likely to need to bring a few of the team along with you on the journey:
a. Employees
Think about setting up a forum or a focus group. To get the refurbishment right, you need to understand what works and, more importantly, what doesn't work right now for you and your colleagues. Trying to factor in their needs at this stage will ensure you save time and money on functional and practical designs. Anonymous surveys are a great way to hear what your staff think about their current work environment and ideas for a new workspace.
b. Stakeholders
These are people within the organisation who can affect or be affected by the change. They could be colleagues you're sitting next to or someone sitting in an office on the other side of the world. Wherever they are, reach out as early as possible to ensure they know you may need them at some point! This could be for collaborating on a design or signing off on the purchase. Whoever they are, take them on the journey with you.
c. Supply Partners
If you oversee a refurbishment on the other side of the world, be sure to use a partner that can make that process as easy as possible. Your fit-out partner may be able to complete the design for you locally and then tender the work in another country. Choose an office fit-out company that you can trust. Expertise and experience are valuable, but you also need a partner who will listen to your needs, offer advice where required, and ultimately deliver a space you are happy with on time and within budget.
Consider if you want a complete turnkey service. Can they provide the following:
Surveying

Planning and landlord negotiations

Space planning

Interior Design and 3D Visualisation

Furniture selection, procurement, and installation

Mechanical and electrical design and installation

Construction/Fit Out works

Health and Safety

A sustainable project

Move management
BUDGET CONSTRAINTS
The cost of a refurbishment could be one of the highest single costs a company faces. Setting a realistic budget and ensuring it is signed off is imperative.
Things to include when determining your budget for the project:
Changes to occupancy costs – maintenance, energy bills, License to Alter Planning permission/building regulation fees, if applicable

Insurance

Fire or environmental assessments

The design and fit-out cost

Furniture costs, including delivery and installation in some cases

IT and Telecoms

M&E – you may decide to update the whole mechanical or electrical systems, but even if you don't, sometimes lights will have to move to accommodate new walls, and the same with heating and cooling equipment.

Waste – Factor in disposal and recycling costs, regardless of the size of your project. 

Security

Dilapidation costs

Energy performance

Contingency – Always allow for this.

Moving costs (this can even be internal)

Audiovisual requirements
Remember that you may be able to claim tax breaks. Always check out the HMRC website to see where you can save some money!
WHEN CONSTRUCTION STARTS
A refurbishment project has the potential to be very disruptive to your business. Some disruption is inevitable, so you will need to consider how to manage this:
What work can be completed outside of office hours? Bear in mind that this will come at a cost.

Consider phasing the project so the business can carry on as usual. It would be best if you considered how disruptive it would be to staff regarding noise, security, dust, and the like.

Mechanical and Electrical work may have to be completed out of hours, so it's worth discussing that before the programme is finalised.
THE PROGRAMME
When drawing up the programme, preparation is vital to avoid surprises and delays on site. Some essential things that might catch you out:
Ensure that surveys for mechanical and electrical have been undertaken. The scope of work can then be programmed accurately.

Strip out and removal of materials as well as removal and possible storage of furniture and equipment.

Lead times for materials and furniture can sometimes be surprisingly long!

Custom elements – bespoke joinery, branding elements, and signage are some customised items that might be on a longer lead time.

IT – once the fit-out is complete, it might be that your internal IT team will require time to get telecoms and data up and running.

Snagging – although this will hopefully be minimal, it is worth programming in time at the end of the project for any snagging required before sign-off and occupancy.
Once the programme has been agreed upon, ensure everyone involved has access to it.
DESIGN CONSIDERATIONS
Design is where you and your chosen team can get creative. It can be daunting when faced with a blank canvas, but there are some practical questions to answer that will help form the base of an excellent design brief:
How many people will be occupying the space? You don't want to be doing this again in a couple of years, so plan for expansion if you think you need it. A good design should offer flexibility but ensure the team is aware of any plans for future growth.

How many fixed workstations do you need? With hybrid working becoming the norm, many businesses opt for more hot desking areas rather than fixed desks.

How should the teams be organised? Think about which departments work closely together.

What sort of spaces/rooms do you need?
        – Reception
        – Meeting rooms
        – Collaboration spaces
        – Offices
        – Training spaces
        – Break out areas
        – Kitchens/ tea points
        – Comms room(s)
        – Copy/printer areas
        – Recycling areas
        – Mailroom(s)
        – Toilets/showers
        – Storage – including secured storage
        – Other – prayer room, mother's room
Having an open plan office is great and promotes a more sociable and communicative atmosphere, but consider how different teams work:
        – Are there teams frequently on calls, i.e., Sales, Customer Service?
        – Are there teams that need quiet for focused tasks?
        – Are there teams where privacy is essential, i.e., HR, Accounts?
        – Who would benefit from being close to the printers/copiers?
        – Do accounts/HR need separate printing and copying equipment for  confidential documents?
This will help with the initial space planning and inform the best layout for everyone in the office.
HVAC and Lighting
Depending on the scope of work, you may require the space to be stripped back completely. It is an ideal opportunity to assess the lighting, electrics, and HVAC systems. Remember that improving your lighting and HVAC can contribute towards an environmental rating such as BREEAM (saving you money in the long term and creating a space with well-being and sustainability in mind).
Make the most of natural light. But consider solar gain and glare.

Consider installing a lighting system with a control system. This can allow you to zone the lighting and have presence/ absence detection and daylight linking.

Simply switching out existing inefficient lighting to LED can be a quick and cost-effective way of improving efficiency and reducing costs.

Meeting well-being criteria benefits businesses and employees. We have a blog on office lighting and how it can affect health, well-being, productivity, energy efficiency, and running costs. You can read it here.

Check with the landlord about the current EPC rating. If you are improving this, you could re-negotiate your lease.
Look and Feel
What atmosphere do you want to create, and what company culture do you want to promote?

Do you want your brand colours reflected in the design? Get the marketing team involved to ensure that the scheme meets brand guidelines.

Do you have images of existing office spaces that you like? Inspiration pictures and mood boards are great ways to communicate your ideas and vision.

Will you be hosting clients in the office? What do you want your brand and identity to communicate to them?
Health and Wellbeing
Do you want to provide shower facilities so people can walk/run/bike to work?

Do you want to provide sit-stand desks?

Do you want to encourage people to get away from their desks by including collaboration spaces, break-out areas, dining areas, and soft seating?

Do you want to incorporate biophilia into the design? We are passionate about this, and you can find out the benefits of this by reading our biophilic design blog.
Acoustics
It is essential to understand how the noise travels around your space. If people concentrate on focus work while others are constantly talking on the phone, neither party may perform at their best, so it's worth considering.

Do you want to provide phone booths or meeting pods?

Do any meeting spaces need acoustic partitioning or glazing? 

In open-plan areas, how will you dampen noise? There are loads of options: acoustic wall panelling, acoustic light fixtures, baffles, biophilia, and more.

What is the construction of the floor and ceilings? Noise can travel between spaces through suspended ceilings or raise

Access floors. Your chosen fit-out partner will be able to advise on possible solutions.
Regulations and Accessibility
Ensure that your designs comply with all regulations, including The Equality Act 2010, The Workplace (Health, Safety and Welfare) Regulations 1992, and The Fire Safety Act 2021.

Think about who may be using or visiting the space. Can they access and navigate it with ease?
Sustainability
Can you reuse any elements of the building? Stripping out doors, glazing, kitchens, and reusing them could save time, money, and energy.

Can the design incorporate the existing M&E layout? Moving air-handling units can be expensive, so it's worth planning spaces around these.

Specify furniture, fixings, fittings, and flooring with highly recycled materials.

Use paints and adhesives with lower environmental impact wherever possible (low VOCs).

Only use FSC3-certified timber.
Furniture
Before specifying new furniture, do you have any existing furniture you can use? Some furniture can be re-upholstered or upcycled to look as good as new.

Prioritise the health and well-being of your staff over the furniture look. Only some office chairs were created equal. They should come with a recommendation of hours of usage. Look for certifications to confirm adequate standards.

Does the furniture come with guarantees and warranties? Think about the cost of furniture over its lifetime, not just the upfront cost. Often the cheapest option can cost you more in the long run.

Does the manufacturer offer delivery and installation? Remember lead times and consider this when specifying products.

Do you have enough storage? If people are hot-desking, do you need to provide lockers for secure storage? How much document storage will individuals and teams need? Do you want everyone hanging their coats on the back of their new office chairs?
Technology
Assess whether your existing IT and telephone systems are effective or if they need upgrading – now is the time to do it!

How many power points and data points does each workstation need?

Think about cable management and plan where floor boxes will need to be, avoid extension leads and trailing cables at all costs!

Think about where the comms room and cabinets will be, and get the IT department involved to ensure it works for them.

Think about the location of printers, scanners, screens, projectors, and anything that needs power! It would be best to hide sockets and wires, so it is worth thinking about these things from the outset.

Often the AV is an afterthought in projects. Still, if you want video conferencing capabilities in meeting rooms or room booking systems, this should be included in the initial design. These things are tough to retrofit.

Even if you don't think you can afford all the AV equipment, you would love, consider wiring in for them. You can always purchase and install the equipment later.
WORKS ON SITE
Once work begins on site, your project manager should have everything under control, but ensure they keep you informed at every stage of the fit-out.
You should be involved in weekly site meetings, and sign-off procedures should be in place. Take lots of photos, and don't be afraid to ask questions or raise any concerns you might have. Snagging along the way is much easier than leaving it all to the end.
Make sure to keep everyone updated with progress and organise a completion party! Your fit-out partner may ask for professional photographs of the space. You can use these, too, to showcase your wonderful new office space.
PRACTICAL COMPLETION
At the end of your project, your fit-out partner should supply you with a 0&M (Operations and maintenance) manual. O&Ms will give you a list of the products used, the warranties they hold, and how to care for and clean them. You should also be issued any electrical and gas safety certificates (if work has been done with these elements).
Lastly, and most importantly, enjoy the space and take a well-earned rest!
GET THE LATEST INSIGHTS FROM OUR EXPERTS